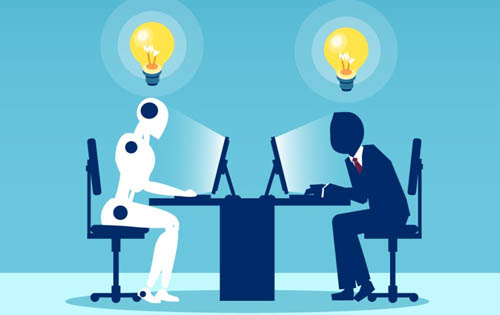 A question comes to my mind - HR managers have to grapple with the conundrum- "how to introduce more human-centric management on the one hand, and the automated scalability offered by AI on the other?"
Are AI & HR really made for each other?
If we do a simple Google search on "AI in HR" we would get about 50,40,00,000 results (in 0.56 seconds), and that is overwhelming.
If we do a search on "HR Tech Cos in AI" the numbers are ever more staggering about 10,30,00,000 results (in 1.04 seconds).
These results could numb one to think that AI in HR are made for each other. In addition to this, vendors of HRMS products and platforms at times proclaim and position themselves to be "powered" by AI.
So, is AI in HR – A Rhetoric or A Reality?
AI tucks under it the terms such as machine learning, deep learning, neural networks, image recognition, predictive analytics, and many, many more. Likewise, HRM covers a whole host of functions from Hire to Retire. As practitioners in HR Tech, we wanted to dig a bit deeper to unravel the details of the phrase "AI in HR".
Is it that everyone thinks, everyone is doing, so everyone would like to claim that they are doing it…a classic case of Fear of Missing Out (FOMO)?
Let us spend a few minutes on what would make AI deliver and what are the characteristics of HR and what it takes for the two to tango.
AI is essentially pattern matching with adaptive decision-making. AI requires a large amount of data - Big Data. The key ingredient for AI is Big Data, without which it is an empty box. Essentially datasets whose size is beyond the ability of typical database software tools to capture, store, manage and analyze could be classified as Big Data. The data threshold at which AI would work effectively would be 1 Petabytes, generated at a fast pace, and the data type could be structured and/or unstructured.
When it comes to HR our discussion is narrower. One of the key objectives of HR is to bring in predictability in functions to enable decision-making.
The fundamental premise behind the significant interest shown in applying AI tools to HR is that HR performs "many" operations and involves sizeable money.
What are the challenges in using AI in HR practices?
Constraints Imposed by Small Data Sets: From the AI side, the constraints are that the data generation may not reach to the level of Big Data. The data could be directly linked with the employee strength of the organization. Will this make a good case for Big Data. The answer is probably no. (e.g. Walmart has the highest employee strength in the corporate world of 2.2mill, and still it may not give the 1 petabyte of data). Marketing and Manufacturing as functions could have considerably more data than HR.
Limitations posed by protected Data Sets: In addition to the large amount of data, data accuracy is key as well. Datasets could get complex when one would like to effectively understand the employee/candidate's psychology. Increasingly protected data sets could force companies to use cheaper, non-representative and possibly less valid data sets to train AI programs. For example, a Machine Learning program might need to review years of succession data to actually understand succession patterns, and this is assuming that data aggregated is accurate.
The McKinsey report buttresses this point (https://www.mckinsey.com/business-functions/mckinsey-analytics/our-insights/global-survey-the-state-of-ai-in-2020)
Do HR practices lend themselves to the application of AI?
One would argue that HR is one of those "human" jobs that would be hard to be replaced with AI. It requires high level of Emotional Quotient and hence a fair degree of personal touch. The common preconception is, it is hard to augment, let alone automate. The complexity of HR data lies in the aggregation and integration exercises. Ethical questions related to the collection of data and the fairness of employee reactions to algorithm-based decisions given the lack of being explainable are the reasons that have slowed down the adoption of AI in HR.
The McKinsey report reinforces this point as well. (https://www.mckinsey.com/business- functions/mckinsey-digital/our-insights/how-bots-algorithms-and-artificial-intelligence-are- reshaping-the-future-of-corporate-support-functions#)
Talent Acquisition seems to be the most promising area. To what extent and why has this worked?
The HR functions range from Hire to Retire. The initial stages of Hire (aka Talent Acquisition) is Talent Discovery. It comprises pre-assessment, sourcing, screening and interview scheduling (which are incredibly time sapping), and lastly on- boarding new employees. These processes are the best targets for AI given the manual, routine and repetitive nature of the tasks. AI adoption in these initial stages promises to give organizations the "first mover" advantage in the competition for talent.
Does Talent Discovery as a process throw up the Big Data required to develop algorithms for AI? Can conclusions be drawn from the patterns?
Talent Discovery as a sub process of Talent Acquisition is a critical first step. Given the proliferation of usage of LinkedIn (which is proven to be more reliable that the traditional resumes) the corresponding snowball of data helps AI. Taking the liberty of extrapolation of the surrogate data-77% of the U.S. population uses the internet on a monthly basis and 62% of Internet users have a Facebook or LinkedIn account. Based upon a recent study, the average social media user in the U.S. has about 200 connections. So, if an organization has 1,000 employees, that translates to a network of 200,000 people one could reach. AI fits in well in this kind of burgeoning data and its availability. Conclusions can be drawn for the Talent Discovery (aka sourcing) phase, safely.
AI helps both the sourcing professionals and the job seekers. Sourcing professionals improve their sourcing efficiency, discover hard to find skills, find new fertile fields, can do employee skill matching and get the referrals. Job seekers can get the matching of jobs with the skills and get to know how their skills get directed.
Finally, can AI get into the mainstream adoption in HR?
AI is certainly a growing force and given that it is being used by social media giants relevant to Talent Acquisition like LinkedIn, Indeed, Career Builder. It is bound to improve Talent Discovery as a process. AI can possibly get that improbably perfect fit and would be the perfect tool for unstructured, out-of-context data getting through to the rare signals.
The eco-system of product and platform vendors, HR professionals, academics, and thought leaders should take the lead in developing industry best practices and use cases for AI and hosting these crucial discussions. Plus, they should be responsible in suggesting what would and would not work. Broad brush approach on applicability of AI across HRM could increase expectations and possible disappointments.
However, this is not to say to not explore and experiment with AI in HR. The note is rather an indicator to ensure that the organization should take the right discussions when thinking of creative and new applications of AI and communicate the right messages.
And lest I should forget, the application of AI in HR should keep a watch on ethical and reliability concerns early on and not try to handle them later in the day. If so, AI in HR can jump the chasm to mainstream adoption.
Somjit Amrit